Kitrinos Healthcare has been operating as an NGO since it was founded by Dr Siyana Mahroof-Shaffi in 2016.  We have been working across Greece, providing healthcare services to vulnerable refugees in camps and care centres, and became a UK-registered charity in 2017.
Over 1 million refugees, the majority of whom have escaped war and persecution in Syria, Iraq and Afghanistan, have reached Greece in an effort to find safety in Europe.  Many medical NGOs have left Greece to provide care elsewhere, meaning that refugees are left without access to desperately needed healthcare facilities, despite being highly vulnerable to chronic and life-threatening physical conditions, and severe psychological disturbance due to trauma, rape, and torture.  While other NGOs have left Lesvos to provide aid in other world crises, we intend to stay for as long as the need is there.
Kitrinos Healthcare currently cares for refugees who were displaced following the September fires that destroyed Camp Moria, Lesvos. We operate in 'Camp Moria 2.0' (or 'Kara Tepe'), a temporary camp on the island. We also have teams in Chios and Athens.
We run services 6 days per week, providing first aid, primary and chronic healthcare, scabies treatment & follow-up, and health education. We also organise intermittent non-medical projects such as clothing and food appeals – learn more here.
Mission Statement
To prevent sickness and preserve health by providing healthcare services to refugees in need.
Aims
To provide medical and holistic healthcare and psycho-social support to patients in refugee camps across Greece.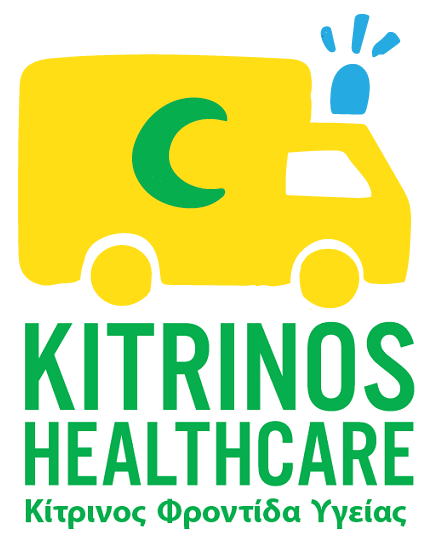 Values
We believe that healthcare is a human right, not a privilege, and it is unacceptable that those who are most in need are often the very people who go without this right.
Although we cannot prevent the refugee crisis from continuing, we can assist in the much-needed provision of healthcare for the vulnerable men, women and children who are stuck in the asylum-seeking process.
Our team consists of medical and non-medical volunteers and staff.  Our medical volunteers include doctors, nurses, midwives and paramedics.  Medical tasks include diagnosing patients' symptoms, prescribing appropriate and available medications, treating wounds, and referring appropriate patients to hospital. Non-medical tasks may include taking stock, driving (EU or international driver's license required) our volunteers and transporting supplies, attending team meetings, delivering TTT (trauma tapping technique) to anxiety sufferers, and helping our admin team raise awareness by providing case studies and updates from the ground.
Once we have approved that a volunteer is ready to join our team, we add them to our Team Signal group (similar to Whatsapp). Our Clinic Coordinator Abdulhadi will respond to volunteer enquiries in Lesvos, and our Volunteer Coordinator Sot will respond to admin-related enquiries here.
Our volunteer house is currently free of charge for all.  If volunteers prefer, they can rent their own private accommodation, but we recommend staying at the volunteer house to improve communication between team members.  We do our best to provide transport between accommodation and the refugee camp, however we are grateful for volunteers who consider hiring a car to help us transport volunteers and supplies.
Many of our volunteers choose to fundraise for us, in some cases using part of the funds to cover their flights and other expenses, and using the remainder to fund our running costs or specific projects. You can set up a fundraising page here, or alternatively email here and we'll set one up for you.
To learn more about volunteering with 'Team Kitrinos', visit our FAQ page.  To apply to volunteer, email us here.
Accommodation – Volunteer
Transport-In-Country – Volunteer
Travel Insurance – Volunteer
Medical Indemnity – Volunteer
Professions
Doctors
GPs
Nurses
Paramedics
Pharmacists
Physiotherapists
Qualifications
Must be fully licenced in volunteer's home country
Languages
English (translators available)
Clinical experience
2 years post-qualification experience
Web:
www.kitrinoshealthcare.org
Email:
volunteer@kitrinoshealthcare.com