Why Doctors Worldwide?
At Doctors Worldwide, we believe that good health enables people and communities to define their own future. Without good health, a parent cannot take care of their family, nor can a child meet their full potential. As a result, communities miss out on a chance to grow and contribute to their collective wellbeing. Access to quality healthcare is not a privilege, it is a human right, and we work towards making that a reality, especially for the most vulnerable communities.
How do we do it?
At Doctors Worldwide, we strive to improve the health of communities by working in partnership with international, national and grassroots organisations. We support locally identified needs through building or rehabilitating health facilities, ensuring essential medical equipment and supplies, delivering training, as well as expert medical advice and guidance on service development. Our approach is anchored in the appreciation of local culture and context, and we address gaps in healthcare provision by means of low cost, high impact solutions.
Our Beginnings
Doctors Worldwide was established in 2001 as a response to the observed challenges in delivering quality medical assistance through programmes which demonstrated community participation and collaborative partnerships, and a sensitivity of local culture and customs. Having witnessed the Balkan conflicts of Bosnia and Kosovo and the challenges faced by non-medical experts in delivering health programmes, a group of international medics collaborated and launched Doctors Worldwide with a simple aim: to help local communities to develop, build and sustain health services for a healthier and happier future.
Since our launch we have delivered more than a hundred healthcare projects across Asia, Africa and Central America. We have responded to many of the serious emergencies and disasters of recent years such as the 2004 Asian Tsunami in Sri Lanka, the 2005 earthquake in Kashmir, as well as the 2011 East Africa famine. In 2010 & 2011 we responded to the floods in Pakistan and in 2017 the Rohingya crisis in Bangladesh.
Doctors Worldwide has expanded to include chapters globally such as DWW Turkey, DWW Pakistan and DWW USA. Our team of volunteers and staff come from all backgrounds and professions to ensure our collaborative approach continues to have integrity and clinical excellence at its heart.
Aims
Health Access
We provide access to quality healthcare for vulnerable communities, whether we are developing new services, building new infrastructure, or covering the cost of healthcare for the poor. We ensure that our belief in access to quality healthcare is enshrined in all we do.
Health Improvement
Much of the world's disease burden and loss of life would be prevented by strengthening healthcare systems. Stronger health systems can help achieve better health, from better trained staff to higher quality services designed for the communities they serve.
Health Emergencies
Local communities and services make up to 90% of first responders during a humanitarian emergency, providing vital medical care and relief. We support and strengthen local community responses to avoid duplicate systems to allow the best and most effective use of resources.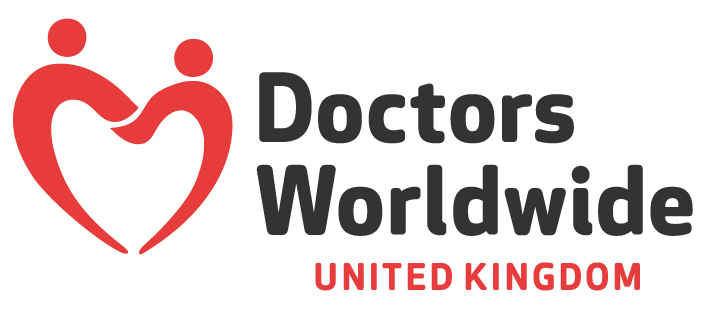 Mission Statement
To serve communities in need so that they can build healthier and happier futures.
Values
Integrity – Our shared values and principles are at the heart of everything we do ensuring every action, every interaction, and every penny is uncompromisingly consistent with our ethical code. 
We are inspired by our shared values to serve others, wherever the need is, irrespective of race or creed. Every single penny entrusted to us is a responsibility that we will fulfil with full accountability and transparency. The knowledge and experience that make us who we are, we share credibly and sincerely. We understand the importance of treating others with respect and dignity, and we are committed to ensuring that every interaction with Doctors Worldwide reflects this.  
Collaboration – Working with others to improve the lives of those who we serve, utilising the invaluable skills, sensitivities, and local knowledge of our partners.
We work with others not for our benefit, but to improve care and coordination, with the aim of improving the lives of those we serve. Doctors Worldwide appreciates the immense value of local knowledge, skills and sensitivities, seeking to build and strengthen partnerships with local partners to better deliver meaningful projects and services.
Clinical Excellence – Experts in delivering and managing quality healthcare, we find solutions in resource challenged settings to deliver low cost, high impact solutions with lasting effects.
We are subject matter experts in delivering and managing healthcare. This helps us find creative solutions in resource challenged settings, developing low cost high impact interventions, which continue long after we are gone. Our aim is to improve access to the highest quality of care, using our experience and know-how to ensure we are doing the right thing.
Doctors Worldwide Improving Care in Clinical Emergencies (DICE) & Postgraduate Fellowship in Migrant and Refugee Health (PGF)
Doctors Worldwide is a specialist medical charity based in the UK with a mission to support and collaborate with local communities to build and sustain quality healthcare services in both development and emergency settings. Over the last 19 years we have delivered over 95 medical projects, responded to 13 humanitarian crises and worked in 25 different countries. Together we have impacted more than 3 million lives and counting. Access to quality healthcare is not a privilege, it is a human right, and we work towards making that a reality, especially for the most vulnerable communities.
Doctors Worldwide has been active in Bangladesh since November 2017 responding to the Rohingya Crisis in partnership with the UN-IOM. We have delivered 2 core capacity building and mentoring programmes for Bangladeshi healthcare workers working in the Rohingya camps and surrounding host communities. The 2 programmes address the gaps found in the delivery of quality healthcare by largely junior medical staff operating within the Rohingya camp setting. Both programmes together focus on strengthening the quality of care at both the primary care and emergency care level. In 2021, DWW will be delivering two 16-week training programmes blending both the DICE and the PGF programme.
Doctors Worldwide Improving Care in Health Emergencies: DICE
The DICE programme aims to improve the current health systems in the Rohingya camp and host community by providing hands-on clinical supervision training for Bangladeshi doctors, nurses and medical assistants who are regularly managing acute or life-threatening conditions within 24/7 primary care facilities. DICE involves 4 full days per week of on-site clinical supervision and hands-on training/learning through logbook assessments and patient consultations. There is an additional 1-day of face to face learning/lectures away from the clinical sites for didactic learning and case-based discussion. In 2020, the DICE programme involved 10 health facilities and approximately 60 medical staff from these facilities. See our website here for further details.
Postgraduate Fellowship in Migrant and Refugee Health: The PGF Programme
The Postgraduate Fellowship (PGF) in Migrant and Refugee Health Programme is centred around the delivery of 8 independent modules to Bangladeshi doctors working in the Rohingya refugee camps and host communities. The PGF aims to provide knowledge and best practices of identified clinical topics specifically designed for humanitarian settings. Since 2017, 99 Bangladeshi medical doctors (split into 4 cohorts), have taken part in the 13-week medical education programme designed to strengthen their capacity to respond to those affected by the Rohingya crisis in Bangladesh. This represents almost half of all the doctors working in the camps. See our impact report here.
The Role
You will be responsible for conducting medical teaching to local Bangladeshi healthcare workers who work for our partnered organisations for Cohort E of the PGF and Cohort B of DICE. This will incorporate a wide range of methodologies including didactic lectures, group discussions, case-based scenarios, simulated exercises with props. There is also a strong element of clinical shadowing and teaching in the Rohingya refugee camps.
We are looking for doctors from emergency care, primary care/general practice, obstetrics and gynaecology, paediatric and leadership backgrounds, and nurses from primary care, emergency medicine and maternal care backgrounds, to implement the 2021 DICE and PGF programmes. You will be supporting and training local Bangladeshi staff operating in 24/7 health facilities operating in refugee camps and host communities in Bangladesh between April – July 2021. You will be introducing and building emergency care, and continuing primary care education focusing on topics such as non-communicable diseases, chronic care management, childhood illnesses, maternal care and more. All training resources will be provided including logbooks to shadow and mentor local healthcare staff within camp clinic settings
The Location
Teaching: Selected conference room and health facilities – Cox's Bazar, Bangladesh
Clinical training & shadowing: In partnered health clinics serving Rohingya refugees within camp setting as well as government health facilities – Cox's Bazar coastal area, Bangladesh
Time Period
Please note this acts as a guide and reflects both minimum and maximum commitment, longer postings (up to 16 weeks) are preferred and will be prioritised at the application stage. Shorter deployments may be available also dependent on application. The curriculum can potentially be moved to suit your availability- please clearly indicate your availability in your cover letter.
Minimum 6 weeks up to 16 weeks – April – July 2021
* Personal fundraising is encouraged and supported by Doctors Worldwide
Personnel
Doctors:
ST4+, minimum 6 years of clinical experience post-qualification of medical degree
Be able to deliver/teach/in-clinic supervision in the English language
We are looking for expert faculty in the following specialities: Priority: Paediatrics and Mental Health; Secondary: Obstetrics and Gynecology, Emergency Medicine, Primary Care, Leadership and Governance.
For DICE we are also looking for Primary Care, Maternal Care and Emergency Medicine Nurses, and Midwives:
Minimum 6 years of experience post-qualification
Be able to deliver/teach/ in-clinic supervision in the English language
A background in health education is beneficial but not essential
Any experience in medical teaching and education should be highlighted in your cover letter and CV.
Given the complex and unpredictable environment in which you will be working, please highlight if you have the following skills:
Past humanitarian response
Working in resource-limited medical environments
Relevant additional qualifications in the areas of Tropical Medicine, Disaster Medicine,Public Health, etc
Can speak Bengali or other local dialects
Familiarity with Bangladesh and/or South Asian culture and geography
CPD credits, Cost, Logistics, and COVID-19
CPD credits:
A letter of support can be provided should you choose to register this activity as part of your CPD.
Cost:
The following costs are covered for doctors and nurses: international and domestic flights, accommodation, visas, insurance, covid tests for travel, and daily meals.
For nurses, a basic stipend will also be included (confirmed).
For doctors, this is a volunteering position but a basic stipend is subject to grant funding (to be confirmed).
Logistics:
DWW will provide the necessary logistical activities such as pre-deployment training, inductions, and field logistics such as daily travel, UN visas, and camp passes for your entire deployment.
Covid-19 Information:
Regulations are changing rapidly and therefore this section is subject to change. The safety of our staff and volunteers is our primary concern and please be assured that we have considered covid-19 within all aspects of our deployment and put the necessary procedures in place, including the following points:
PPE and sanitiser supplied by Doctors Worldwide
Pre travel COVID-19 test funded/provided by Doctors Worldwide (required to enter Bangladesh
Currently there is a mandatory quarantine period upon arrival to Bangladesh from most countries including the UK. The quarantine rules differ depending on country of origin and may take place in a hotel. All costs are paid for by Doctors Worldwide. There may be allowances depending on your COVID-19 vaccine status.
Application and Recruitment Process
Application:
Please complete and submit this online form.
Select: "2021 Doctor Deployment, Bangladesh" OR "2021 Nurse Deployment, Bangladesh"
Please upload a CV and Cover Letter directly outlining your experience and qualifications
Please provide 2 references to be contacted. Note: only those who are selected for an interview will undergo reference checks
Please provide proof of medical certification (ex. GMC number)
Please state your availability for deployment
If interested please allow a minimum 5 weeks for the application to be reviewed and accepted prior to successful deployment
Recruitment Process
Full application received (see above)
Vetting process A
Applicants notified for interview, applicants' reference checks
Vetting process B
Applicants notified of volunteer position outcome [unsuccessful or pending after vetting process C]
Pending volunteers to go through visa screening eligibility process
Pending volunteers to attend mandatory 1-day pre-deployment session, pass the security test & to complete the volunteer form
Vetting process C
Unsuccessful applicants notified
Successful applicants sent an official confirmation of acceptance as a volunteer for DWW
Travel dates agreed and Bangladesh visas applied for in home country (visa applications can take minimum 10 days to process or longer due to COVID-19)
Volunteers approved to book flights [flexi/refundable option only] and reserve accommodation* (such bookings are not to be made prior to this step, any early bookings can result in risk of loss of funds for flight, risk of not being deployed, etc). *in-country accommodation during deployment will be pre-arranged by DWW.
NOTE: THIS POST IS SUBJECT TO CHANGES AND CANCELLATIONS. DWW reserves the right to cancel your deployment at any point prior to your travel dates. In addition, due to the dynamic situation in the country, visa approvals, access into the country, and access to the Rohingya refugee camps are not guaranteed by DWW. Any applicant who does not meet the pre-deployment logistical dates and deadlines will not be deployed out.
Volunteer roles will depend on the project, but have in the past been focussed on medical teaching. Volunteers are supported before, during and after deployments by our field team and UK headquarters team. Transport in the country will be organised by Doctors Worldwide. We will organise and fund any internal flights needed. Volunteers stay in hotels or apartments which are organised and funded by Doctors Worldwide.   
If you would like to be involved with Doctors Worldwide but are not sure how your skills and experience would best fit, you can complete the 'Register My Interest' application form on our website and we will get in touch if any suitable opportunities become available. 
Flights – Dependent on project
Accommodation – Dependent on project
Transport-In-Country – Project
Travel Insurance – Project
Medical Indemnity – Volunteer
Professions
Doctor
Nurse
Midwife
Paramedic
Languages
English (translators available)
Other skills/experience
Humanitarian response experience, experience working in resource-limited environments, and relevant additional qualifications desirable but not mandatory 
Qualifications
Must be fully licensed in volunteer's home country.
Medical teaching qualification and experience sometimes desirable
Volunteering experience
Desirable but not required
Clinical experience
Minimum 5-years post-graduate experience usually required
Email:
info@doctorsworldwide.org