Why Doctors Worldwide?
At Doctors Worldwide, we believe that good health enables people and communities to define their own future. Without good health, a parent cannot take care of their family, nor can a child meet their full potential. As a result, communities miss out on a chance to grow and contribute to their collective wellbeing. Access to quality healthcare is not a privilege, it is a human right, and we work towards making that a reality, especially for the most vulnerable communities.
How do we do it?
At Doctors Worldwide, we strive to improve the health of communities by working in partnership with international, national and grassroots organisations. We support locally identified needs through building or rehabilitating health facilities, ensuring essential medical equipment and supplies, delivering training, as well as expert medical advice and guidance on service development. Our approach is anchored in the appreciation of local culture and context, and we address gaps in healthcare provision by means of low cost, high impact solutions.
Our Beginnings
Doctors Worldwide was established in 2001 as a response to the observed challenges in delivering quality medical assistance through programmes which demonstrated community participation and collaborative partnerships, and a sensitivity of local culture and customs. Having witnessed the Balkan conflicts of Bosnia and Kosovo and the challenges faced by non-medical experts in delivering health programmes, a group of international medics collaborated and launched Doctors Worldwide with a simple aim: to help local communities to develop, build and sustain health services for a healthier and happier future.
Since our launch we have delivered more than a hundred healthcare projects across Asia, Africa and Central America. We have responded to many of the serious emergencies and disasters of recent years such as the 2004 Asian Tsunami in Sri Lanka, the 2005 earthquake in Kashmir, as well as the 2011 East Africa famine. In 2010 & 2011 we responded to the floods in Pakistan and in 2017 the Rohingya crisis in Bangladesh.
Doctors Worldwide has expanded to include chapters globally such as DWW Turkey, DWW Pakistan and DWW USA. Our team of volunteers and staff come from all backgrounds and professions to ensure our collaborative approach continues to have integrity and clinical excellence at its heart.
Aims
Health Access
We provide access to quality healthcare for vulnerable communities, whether we are developing new services, building new infrastructure, or covering the cost of healthcare for the poor. We ensure that our belief in access to quality healthcare is enshrined in all we do.
Health Improvement
Much of the world's disease burden and loss of life would be prevented by strengthening healthcare systems. Stronger health systems can help achieve better health, from better trained staff to higher quality services designed for the communities they serve.
Health Emergencies
Local communities and services make up to 90% of first responders during a humanitarian emergency, providing vital medical care and relief. We support and strengthen local community responses to avoid duplicate systems to allow the best and most effective use of resources.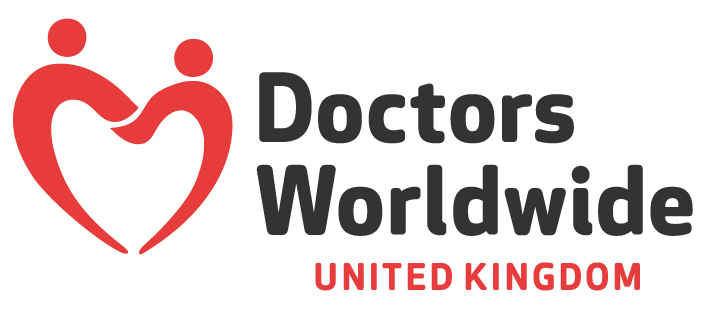 Mission Statement
To serve communities in need so that they can build healthier and happier futures.
Values
Integrity – Our shared values and principles are at the heart of everything we do ensuring every action, every interaction, and every penny is uncompromisingly consistent with our ethical code. 
We are inspired by our shared values to serve others, wherever the need is, irrespective of race or creed. Every single penny entrusted to us is a responsibility that we will fulfil with full accountability and transparency. The knowledge and experience that make us who we are, we share credibly and sincerely. We understand the importance of treating others with respect and dignity, and we are committed to ensuring that every interaction with Doctors Worldwide reflects this.  
Collaboration – Working with others to improve the lives of those who we serve, utilising the invaluable skills, sensitivities, and local knowledge of our partners.
We work with others not for our benefit, but to improve care and coordination, with the aim of improving the lives of those we serve. Doctors Worldwide appreciates the immense value of local knowledge, skills and sensitivities, seeking to build and strengthen partnerships with local partners to better deliver meaningful projects and services.
Clinical Excellence – Experts in delivering and managing quality healthcare, we find solutions in resource challenged settings to deliver low cost, high impact solutions with lasting effects.
We are subject matter experts in delivering and managing healthcare. This helps us find creative solutions in resource challenged settings, developing low cost high impact interventions, which continue long after we are gone. Our aim is to improve access to the highest quality of care, using our experience and know-how to ensure we are doing the right thing.
2021 Deployment Opportunities
DWW has been active in Bangladesh since November 2017 responding to the Rohingya Crisis in partnership with the UN-IOM. We have delivered two core capacity building and mentoring programmes for Bangladeshi healthcare workers working in the Rohingya camps and surrounding host communities. The two programmes address the gaps found in the delivery of quality healthcare by largely junior medical staff operating within the Rohingya camp setting. Both programmes together focus on strengthening the quality of care at both the primary care and emergency care level. In 2021, DWW will be delivering two 16-week training programmes blending both the DICE and the PGF programme.
We are seeking medical faculty for March-June 2021 deployment – this is funded by DWW and faculty will be paid a stipend.  We need 5 core faculty who are able to be deployed for up to 16 weeks + potential 2-week quarantine period. Shorter deployments may be available also dependent on application.  We are looking for doctors and nurses with minimum 5 years post-graduation experience in the following specialties:
Paediatrics
Obstetrics and Gynaecology
Emergency Medicine
Primary Care
Leadership and Governance
Interviews are being conducted on a rolling basis.  Closing date for March deployments: 2nd Feb; Closing date for later deployments: 16th Feb.  Apply through our online form at https://www.doctorsworldwide.org/apply/?area=medical-faculty-volunteer-doctor.
Volunteer roles will depend on the project, but have in the past been focussed on medical teaching. Volunteers are supported before, during and after deployments by our field team and UK headquarters team. Transport in the country will be organised by Doctors Worldwide. We will organise and fund any internal flights needed. Volunteers stay in hotels or apartments which are organised and funded by Doctors Worldwide.   
If you would like to be involved with Doctors Worldwide but are not sure how your skills and experience would best fit, you can complete the 'Register My Interest' application form on our website and we will get in touch if any suitable opportunities become available. 
Flights – Dependent on project
Accommodation – Dependent on project
Transport-In-Country – Project
Travel Insurance – Project
Medical Indemnity – Volunteer
Professions
Doctor
Nurse
Midwife
Paramedic
Languages
English (translators available)
Other skills/experience
Humanitarian response experience, experience working in resource-limited environments, and relevant additional qualifications desirable but not mandatory 
Qualifications
Must be fully licensed in volunteer's home country.
Medical teaching qualification and experience sometimes desirable
Volunteering experience
Desirable but not required
Clinical experience
Minimum 5-years post-graduate experience usually required
Email:
info@doctorsworldwide.org