MARDi: Medical Aid for Refugees and Displaced people
Thousands of refugees and displaced people are currently living in cramped, dirty and unsanitary conditions on the streets of Paris, after risking their lives by fleeing from their home countries and travelling through Europe in the hope of a better, safer life.
Many refugees are escaping war and persecution in Syria, Iraq and Afghanistan.  Others seeking refuge from violence and conflict in Sudan and Eritrea to seek safety in Europe.  We also see many people from Somalia, West Africa and Ethiopia.
Living in such unsanitary conditions make these refugees vulnerable to acute and chronic health conditions and injuries.  After volunteering with other organisations aiding refugees in other parts of France and Europe we noticed there was a huge need for basic healthcare and first aid in the refugee camps in Paris, with few organisations providing this.
Paris currently has over 3000 refugees, including families with young children, living with little access to healthcare.  We soon began making trips to the camps as teams of healthcare professionals to provide basic aid, growing our organisation to be able to do this on a daily basis.  
Refugees in these camps have regular contact with healthcare professionals and are able to access help and aid for their health needs that they didn't before.  We fundraise to buy medical aid at www.gofundme.com/f/mardi-medical-aid-for-refugees-displaced-people
Aims
To provide basic healthcare to refugees and displaced people living in poor unsanitary conditions in Paris, and to provide further support for issues requiring secondary care
To actively advocate for refugees and their maltreatment from the French and other European governments
Mission Statement
We are an international network of healthcare professionals that provide voluntary medical aid to refugees and displaced people living in refugee camps in Paris, France.  We provide first aid, basic medical care and triage in the camps with hospital advocacy for issues needing secondary care.
Values
Our values are based around the belief that access to quality healthcare is a basic human right no matter your faith, race or ethnicity.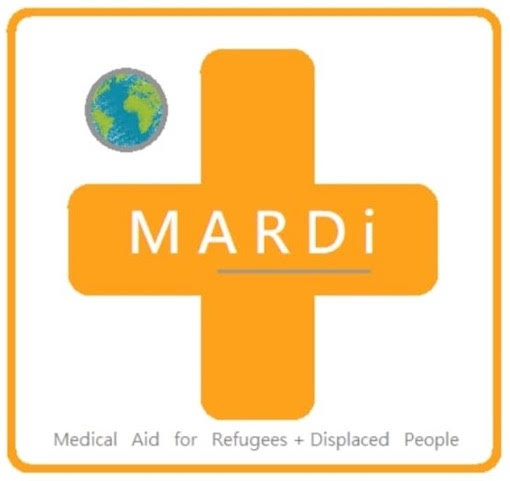 In the morning before heading out we set a plan for which camps to focus on that day and stock our bags to take.  Once ready, we will head out into the camps wearing scrub tops to make ourselves noticeable to the refugees.  We tend to a lot of wounds, cleaning and dressing them as well as treating common complaints such as gastric issues, pain, cough, colds and flu and some long term health problems, to name just a few.  We may also see people that will require further secondary care for chest infections, tetanus shots, etc and will act as advocates escorting them to receive the necessary treatment in hospital or medical centres.
The camps are located in Porte de la Chappelle and Porte d'Auvervilliers and are all within walking distance between each other. This area of Paris is approximately 40 minutes from Charles du Gaulle Airport with train and taxi links between.  We suggest volunteers finding accommodation in this area to reduce their travel expenses.  There is a hostel and many AirBnB's available.  First time volunteers will not find themselves alone without someone with previous experience in the camps to support them.
Once volunteers have confirmed they wish to join the team, we encourage fundraising to buy medical supplies, as with so many refugees living in Paris and medical aid in such high demand, supplies regularly need to be restocked.  You will get to know your fellow teammates well, spending time working together in the camps as part of a multi-disciplinary team to provide overall holistic care, as well as talking over lunch or dinner in the evening whilst decompressing from the day's busy work.
Accommodation – Volunteer
Transport-In-Country – Volunteer
Travel Insurance – Volunteer
Medical Indemnity – Volunteer
Professions
Doctors
Nurses
Midwives
Physiotherapists
Paramedics
Dentists
Qualifications
Must be fully licensed in volunteer's home country
Languages
English (Arabic, Pashto or French would also be useful)
Clinical experience
1 year post-qualification